How to Copy or Cancel and Replace a Certificate
To begin, search for the certificate by placing your mouse on the Shipments menu on the top menu bar and select Query/List.
If you are unsure on how to do so please refer to the video on how to search for a certificate.

What is the Copy feature?
The copy feature allows you to copy the shipment information from one certificate to another. The Copy feature is useful in the case where you have to insure the same type of shipment multiple times. Instead of reentering the same information for each shipment, you can simply copy this information into another certificate and then book the shipment immediately.
How to Copy a certificate?
To copy a certificate, scroll to the end of the certificate and click on Copy.

You will now be able to modify the shipment information, if necessary.
After you have modified all the necessary fields, scroll down and select Verify Coverage to validate the information.

The system will check if any information is missing. If the shipment is entered correctly you will be able to Save Template, Print Draft or Confirm Booking.
Select Confirm Booking to finalize the shipment.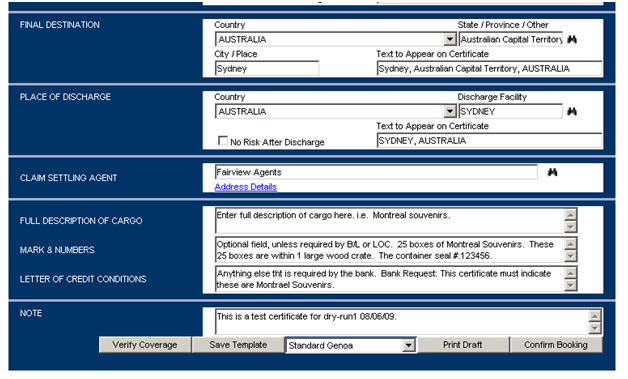 If the certificate is very similar to the one copied, then you'll have the two following options:
Access Existing Shipment and Book New Shipment.
Click Book New Shipment so the certificate is booked and confirmed and has a new certificate number and status, or click Access Existing Shipment if you do not want to book this shipment.

What is the Cancel and Replace feature?
You can cancel a booked shipment certificate and replace it with a new one. This new shipment certificate will contain the same information as the former certificate but it will have a different certificate number. This saves you from starting over and having to re-enter the same information twice. Please note, you can modify the information on the new certificate.
How to Cancel and Replace a certificate?
To cancel and replace a certificate, scroll to the end of the certificate and click on Cancel and Replace.
* Please Note: In order to have access to the Cancel and Replace option, you must have the appropriate user rights. Please see you insurance representative for more information.

The Cancellation Request option appears.
Type a reason for the cancellation and then click Confirm Cancellation.

A confirmation message will appear. You could then click OK to create a replacement certificate.

You can now modify the new certificate.
After the required information has been changed, click on Confirm Booking.

A new certificate number will be generated.